IAIABC Mediators' College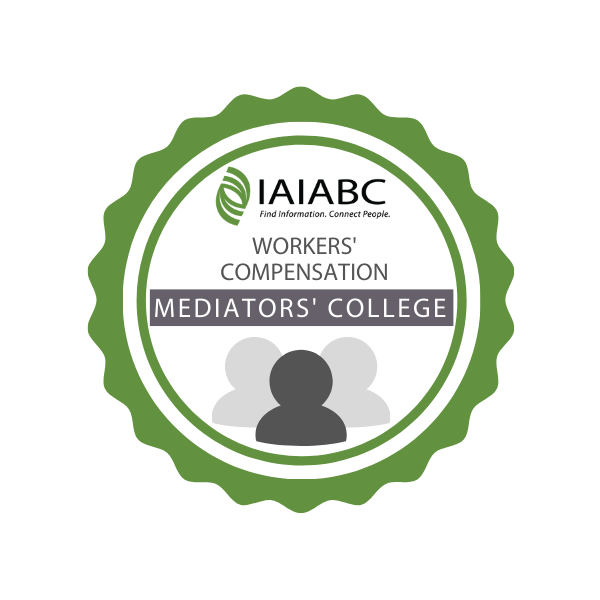 About
The IAIABC Dispute Resolution Committee is proud to once again host its virtual Mediators' College. Beginning in January 2024, the program is designed to train new workers' compensation mediators essential mediation skills as well as help all mediators improve their practice.
The program will consist of live and recorded sessions, self-paced modules, reading assignments, and mock mediations. Training materials were developed by experienced workers' compensation mediators from across the United States. Additionally, live virtual mediation coaching will also be provided by professionals from a variety of jurisdictions.
Participants who complete the full program in 2024 will also receive the Workers' Compensation Mediators' College digital credential.
Don't miss this opportunity to learn from and with peers in the workers' compensation industry as we all work to help injured workers and employers make well-informed settlement decisions.
Early Bird Registration Rate for IAIABC Members is $409 and $509 for non-IAIABC members.
Standard Registration Rate for IAIABC Members is $449 and $549 for non-IAIABC members.
Please note: All participants will be expected to commit three hours every two weeks as they attend a ninety-minute virtual classroom, interact with peers, and utilize the self-paced learning modules on educate@iaiabc. By registering for this program, you agree to participate to the best of your ability in order to make this a worthwhile training for other students and the instructors. Additionally, live sessions may be recorded for use on educate@iaiabc or future marketing purposes.
How Do I Attend?
Check out the agenda tab to confirm if the dates will work for you. Then, register and receive a confirmation email that will include a link to join the live, virtual Orientation session. The IAIABC Education Services Manager will stay in contact with you with instructions throughout the program.
You can also download this 2024 Mediator's College Schedule At a Glance to keep track of dates and topics.
Questions?
Contact Samantha Collier at scollier@iaiabc.org.