Frequently Asked Questions
Below is information on navigating and accessing information on the website. If you encounter any issues you cannot solve below, please contact us for assistance. 
Website Overview
 Accounts
Website Content
---
Website Navigation Overview
Points of interest in the new website navigation:

Resources: Access resources such as issue papers, EDI Guides, Perspectives Magazine, "Accidentally" podcasts, and more.

Events & Education: Learn about and register for events like the Convention and The Forum, learn about the benefits of becoming a sponsor. Find information on educational programs like Foundations, EDI Training, and the EDI Training Subscription, navigate to E-Learning for EDI training subscribers and Foundations participants, read about the IAIABC's available digital credentials.

Online Communities: Find the link under "Connect;" you'll need to go through a secondary login to access the online communities.

Use your IAIABC website login ID to use the communities based on your membership access level. 
Committees: All committee pages and closed committee materials pages can be found here.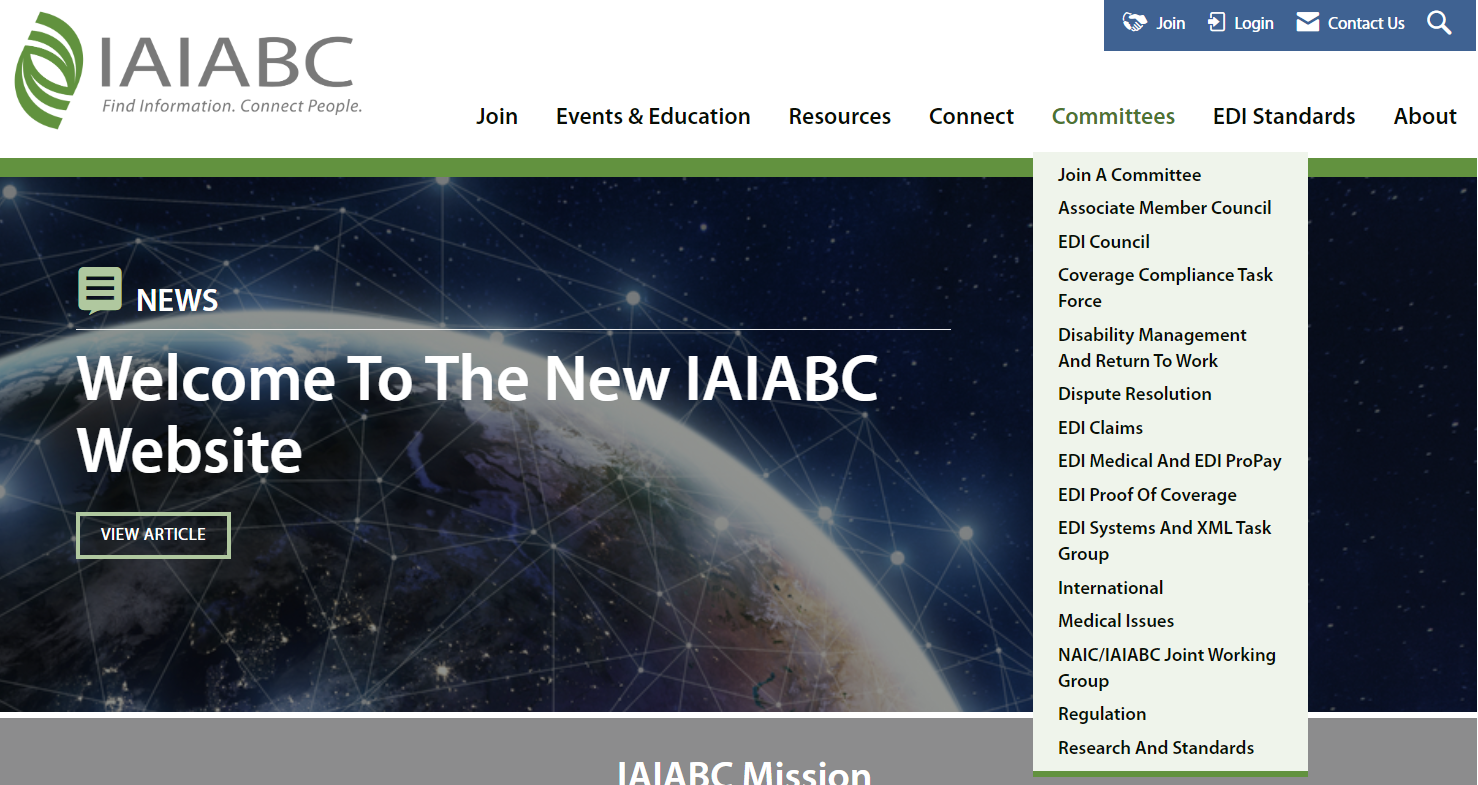 ---
Website and Resource Search 
Use the search 

 icon on the top right of the IAIABC website to search website content, or under the "Resources" section in the website navigation to search the IAIABC's collection of resources.


---
Navigating to the IAIABC Website Homepage
If you're trying to get back to the IAIABC homepage from any webpage, just click the IAIABC logo in the upper left corner of your screen.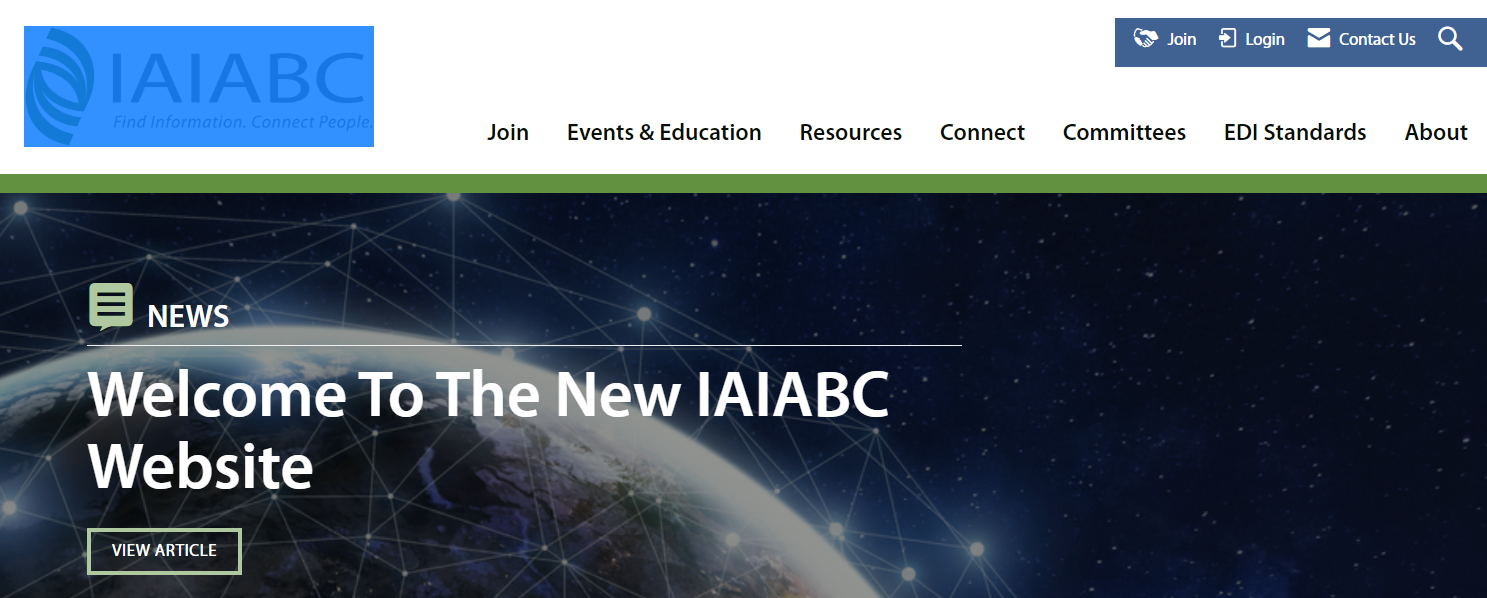 ---
Creating a New Account
If you would like to create a new user account, follow these steps:
Visit iaiabc.org
Click on the "Join" link in the top right-hand corner
Select the appropriate category: if your organization IS an IAIABC Member or is NOT interested in Membership at this time, or if your organization is NOT an IAIABC Member and would like to become one.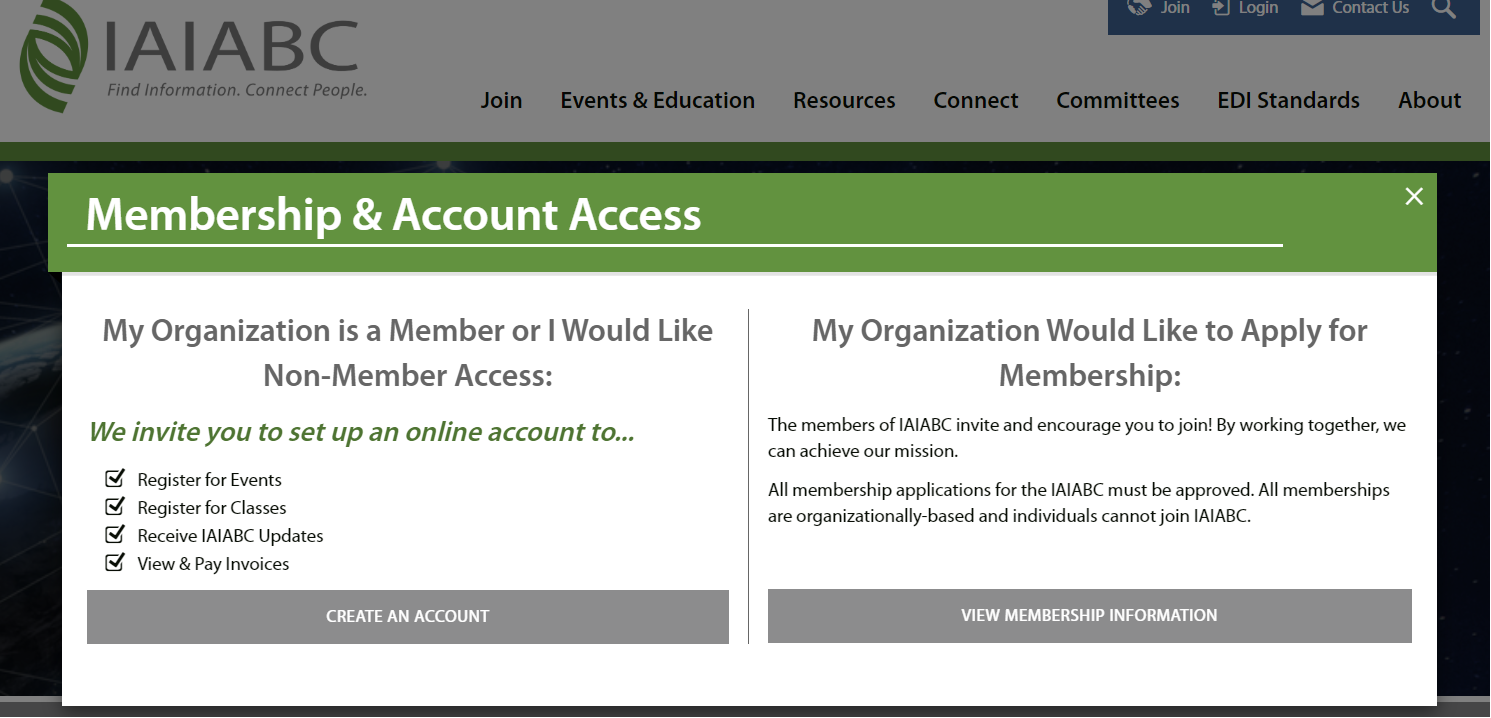 If your organization is a Member or is not going to become a Member:
Click on "CREATE AN ACCOUNT" in the Membership & Account Access pop-up
Add your first name, last name, email address, and a password
Enter your organization name and select it from the drop-down (most successful method is to not use abbreviations)
Enter your custom profile information
Submit your account creation request
Wait for an approval email from the IAIABC (these emails can take up to one business day)
 If your organization would like to become a Member:
Click on "VIEW MEMBERSHIP INFORMATION" in the Membership & Account Access pop-up.
On the "Become an IAIABC Member" webpage, select the type of membership that applies to your organization.
Enter your Login Info.
Enter your organization's information and additional contact information for yourself in "Key Info."
Go through the "Checkout" process, selecting pay by credit card or invoice. If you select auto-renew on the checkout screen, it only means that your invoice will be automatically created when renewals begin later in the year. Your credit card will not be automatically charged.
Once completed, your application will be sent to the IAIABC for approval and processing.
---
 Accessing Your Account
If you had a user login in the old IAIABC system, you will have one in the new system. Check your inbox (or spam) for an email from the IAIABC which will prompt you to reset your old password so you can login to the new system. If you cannot find the email, complete these steps:
Visit iaiabc.org
Click on the "Login" link in the top right-hand corner
Enter your email address
Click "Forgot Password?"
You will be emailed a password reset link. Once logged in, be sure to visit your profile, or "Member Compass," and see all the new tools and information available to you.
---
User Profiles ("Member Compass")
Once logged in, click on your name in the upper right-hand corner of the website. This takes you to your profile, or "Member Compass."*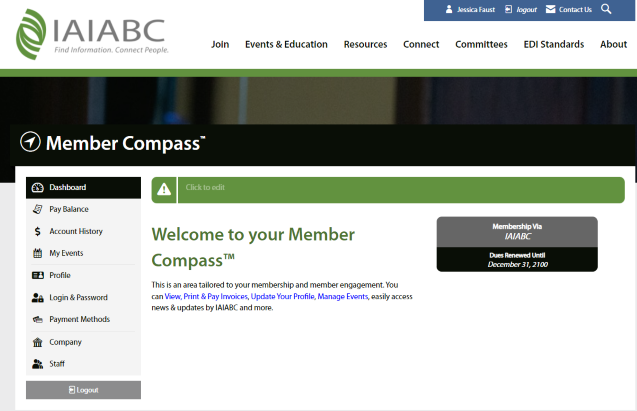 Here, you can:
View and update your contact and custom information
View and pay your invoices
View events you are currently registered for or have previously attended
View records for orders you have placed
View your organization's membership status
*If you are a primary contact, billing contact, or have management access, see below to find out what additional items you can see in your Member Compass.
---
Primary, Billing, and Management Contact Member Compass
Primary contacts, billing contacts, and those with management access will have additional features available in your profiles, or "Member Compass."
Each organization is allowed one billing contact, who will be the main contact regarding billing questions.
Primary contacts and those with management access will have all regular features, but will also be able to:
View and pay invoices for the organization and related contacts
View and update organizational contact and custom information (except the organization name)
View and edit organizational employee access to the member account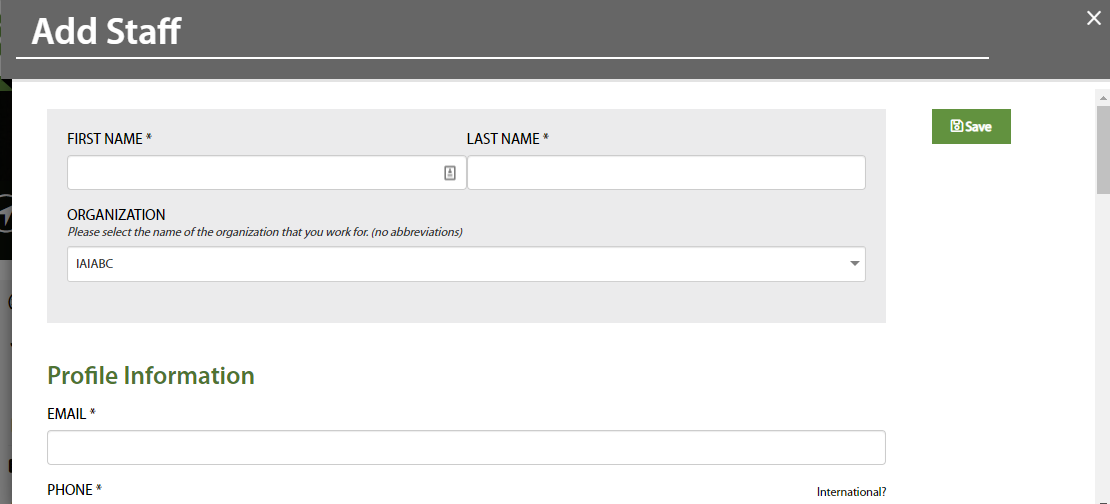 Billing contacts' Member Compass will include all regular features, but will also be able to:
View and pay invoices for the organization and related contacts

Each organization is allowed one primary contact. The primary contact will receive membership notices and assign management access for colleagues (we recommend limiting the number of management access accounts so it does not become unmanageable).
---
Accessing Resources
IAIABC resources, including white papers, comparative reports, EDI Standards, and more will be easier than ever to search, access, and download. Many IAIABC resources require membership to access, and some are publicly available.
Begin by selecting "Resources" in the www.iaiabc.org navigation. In the dropdown click on "Search Resources." You will then be directed to the the IAIABC collection of resources.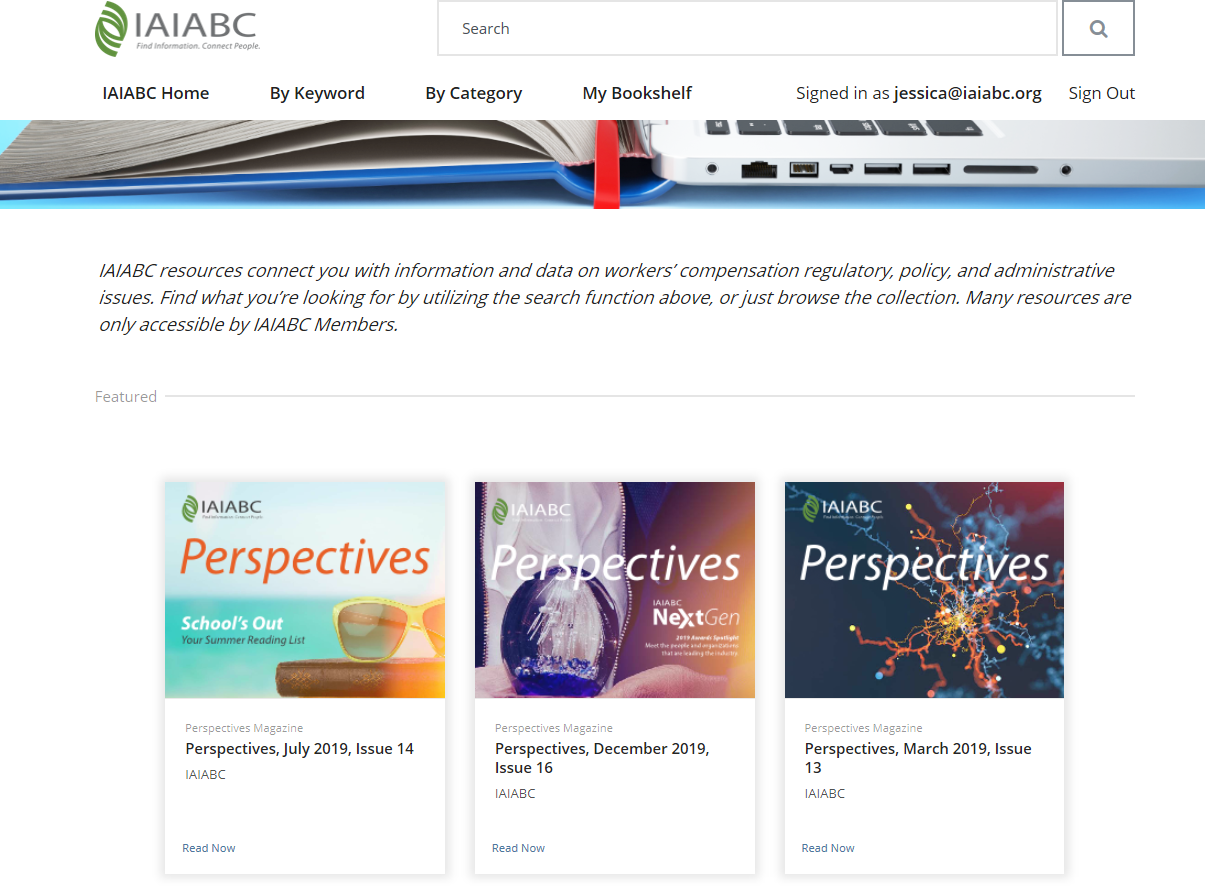 ---
Committee Materials
Each IAIABC committee will have a private community where members can discuss topics of interest and materials – primarily committee minutes – will be posted. To access this page, you will need to login to the website, visit your committee webpage (i.e. Dispute Resolution), and click on the "Dispute Resolution Committee Community" link at the bottom of the webpage. You can also bookmark this committee community webpage for quick access in the future.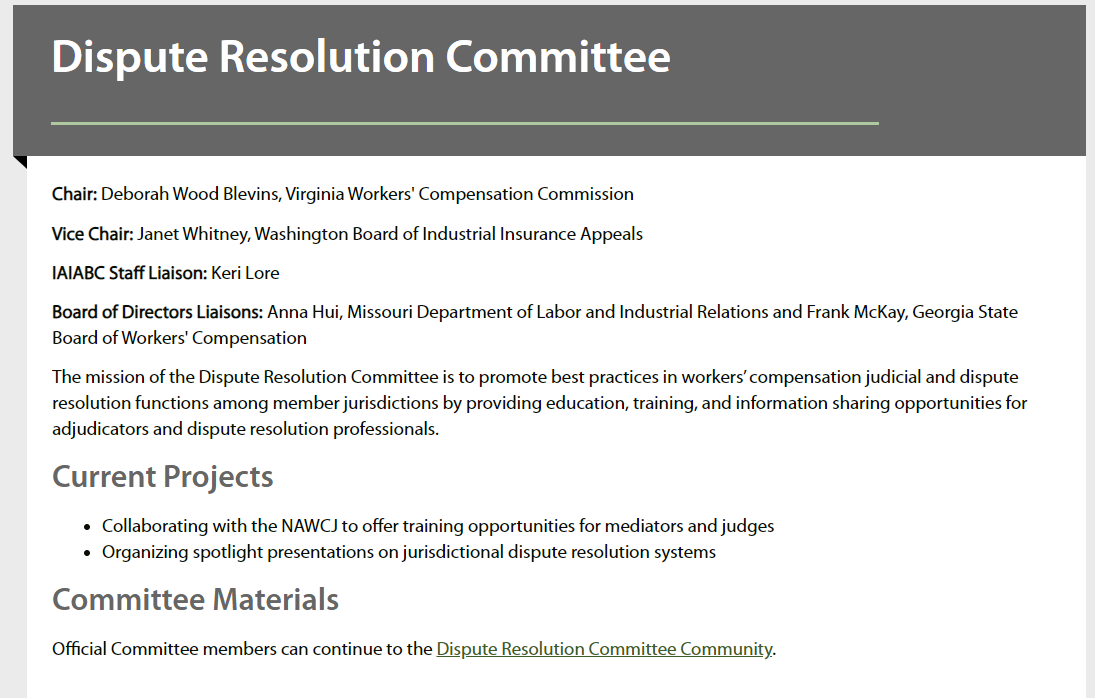 The committee community link will take you to our online communitites. Click the continue to log in button and then use the website login button to log into the IAIABC communtities.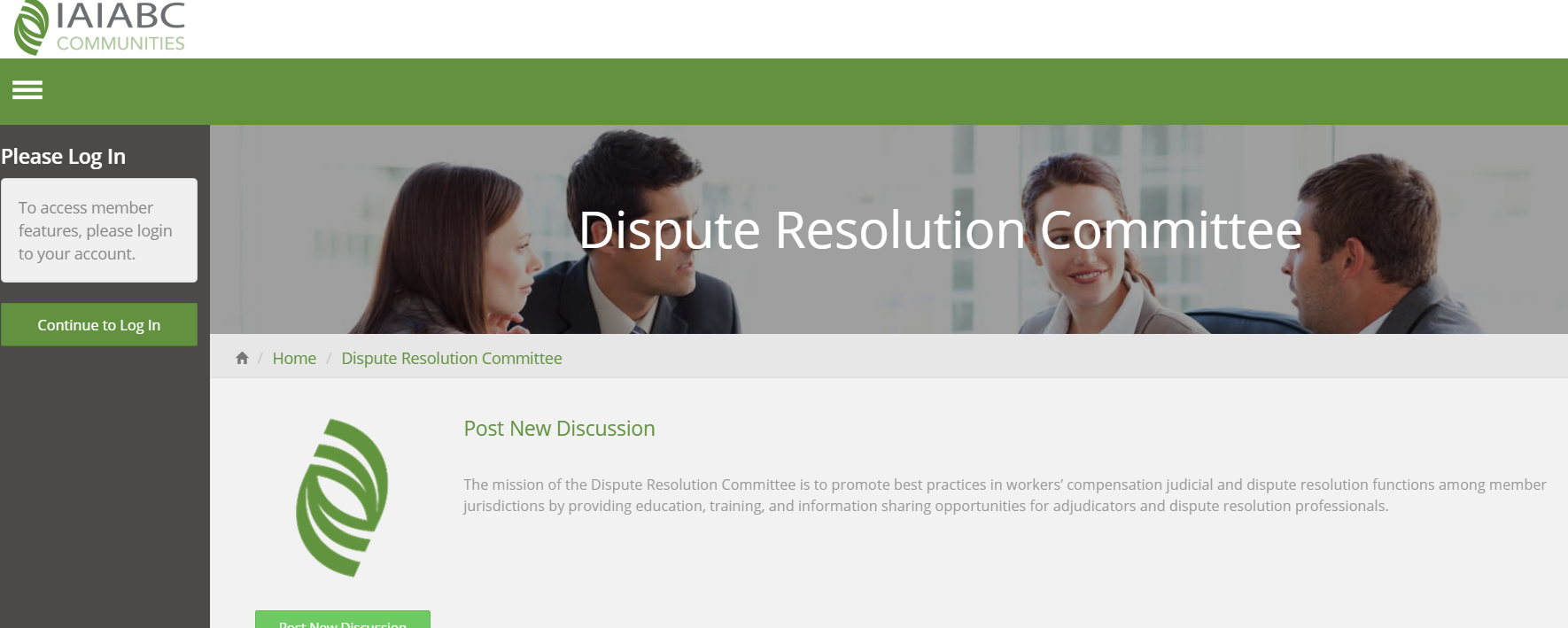 ---
Accessing/Posting on Online Communities
IAIABC online communities, such as the "J2J" Jurisdiction to Jurisdiction and EDI General Interest, allow members to share information, ask questions, and connect with peers. The online communities are now more robust and user-friendly.
To access the communities:
Under "Connect"on the website navigation, click on "Online Communities" in the drop-down menu.

2. You will be taken to: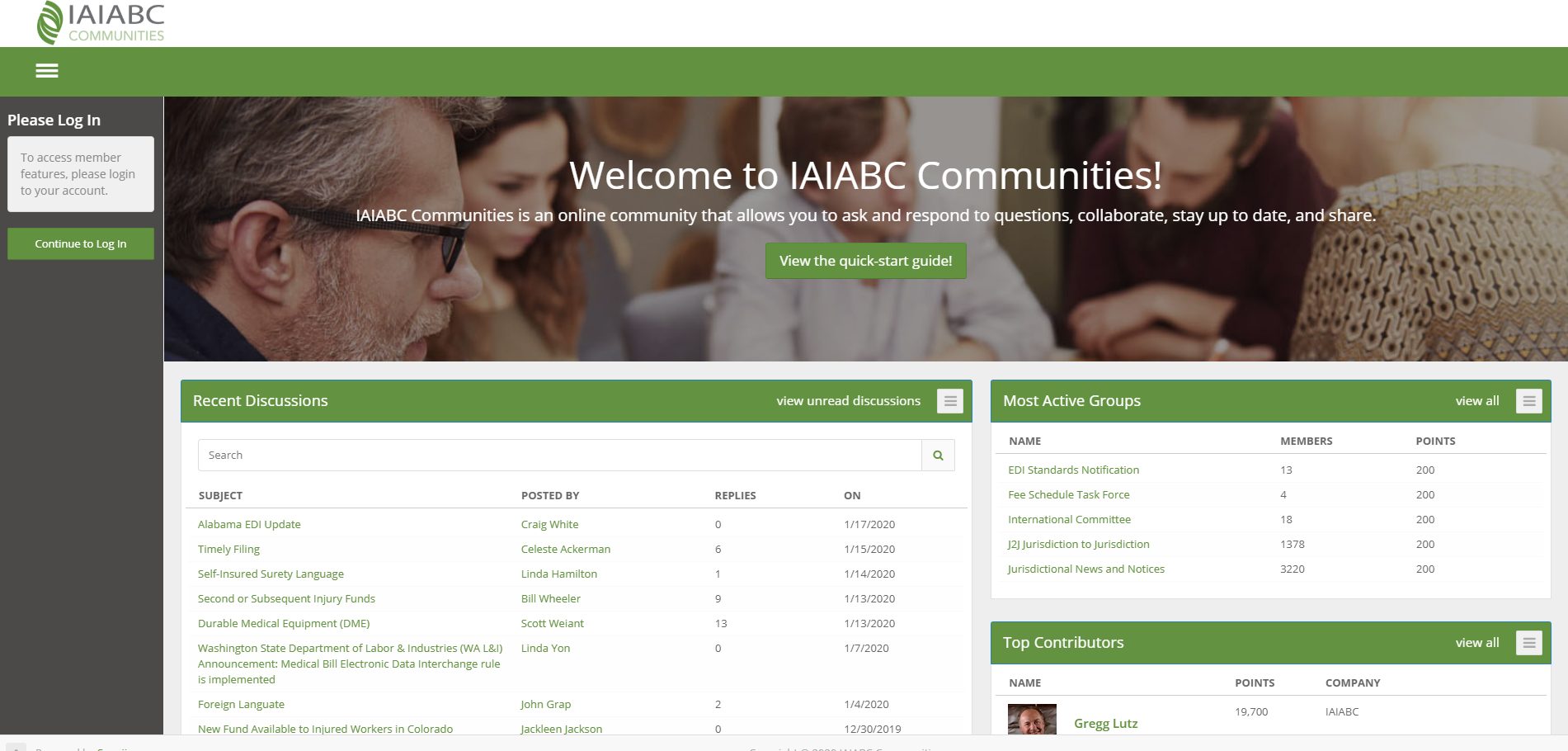 Select "Website Login." If you were not already logged in you will be prompted to. If you were, your page will refresh.

Some things you can do on the communities:
Post a new discussion
Comment on previous discussions
See lists of current community members
Access files uploaded to the communities
Changing Your Email Preferences, Option 1:
Change your email preferences for the groups you are part of, go to "My Account" in the communities profile on the left, and select "Email Preferences" in your menu.  Privacy settings can be changed under My Privacy Settings in the same menu.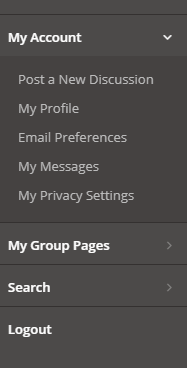 Here, you can edit email notifications and preferences based on specific groups you belong to (groups listed will be dependent on your member type or committee memberships). You may edit notifications for each group, selecting either immediate; daily digest; weekly digest; or no emails. You may also select the day and time you receive digest emails, format, and notifications following posts you make. 

Changing Your Email Preferences, Option 2:
Visit a specific group and click the carrot on the "Emails" button. Here, you can turn on or off emails for the group, or click "Manage My Notifications" to visit the email notifications area. Selecting "Emails On" will turn on the group default notification, which will be either a daily or weekly digest.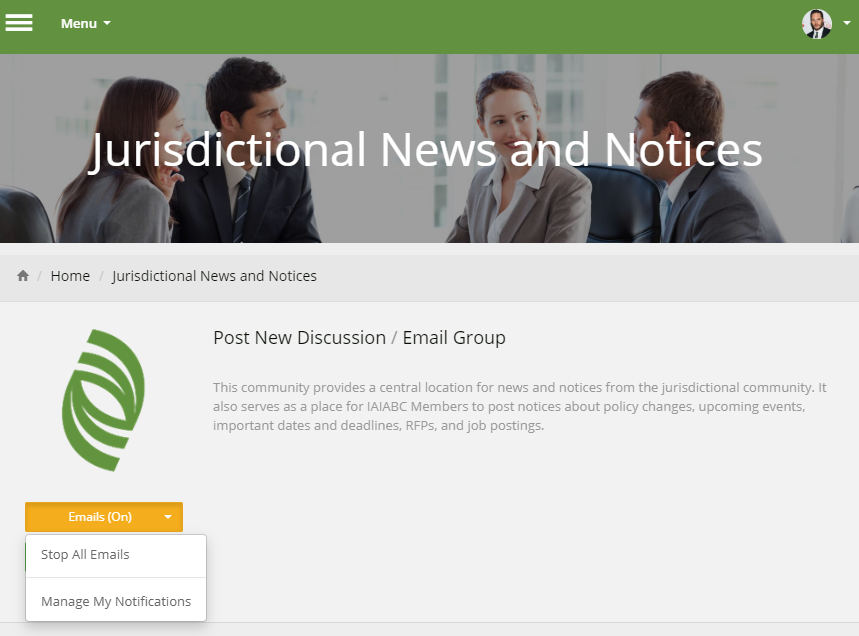 ---
Learning Management System "E-Learning Sign In"
IAIABC member organizations with active EDI Training Subscriptions or individuals participating in the IAIABC Foundations Program can access courses and materials using the learning management system (LMS).  Please find the LMS by going to "Education" and selecting "E-Learning Sign In."  You will then be directed to the the LMS.  If you were not already logged into the IAIABC website you will be prompted to. 

If you have active courses in the LMS, you will see the courses once you log into the IAIABC website.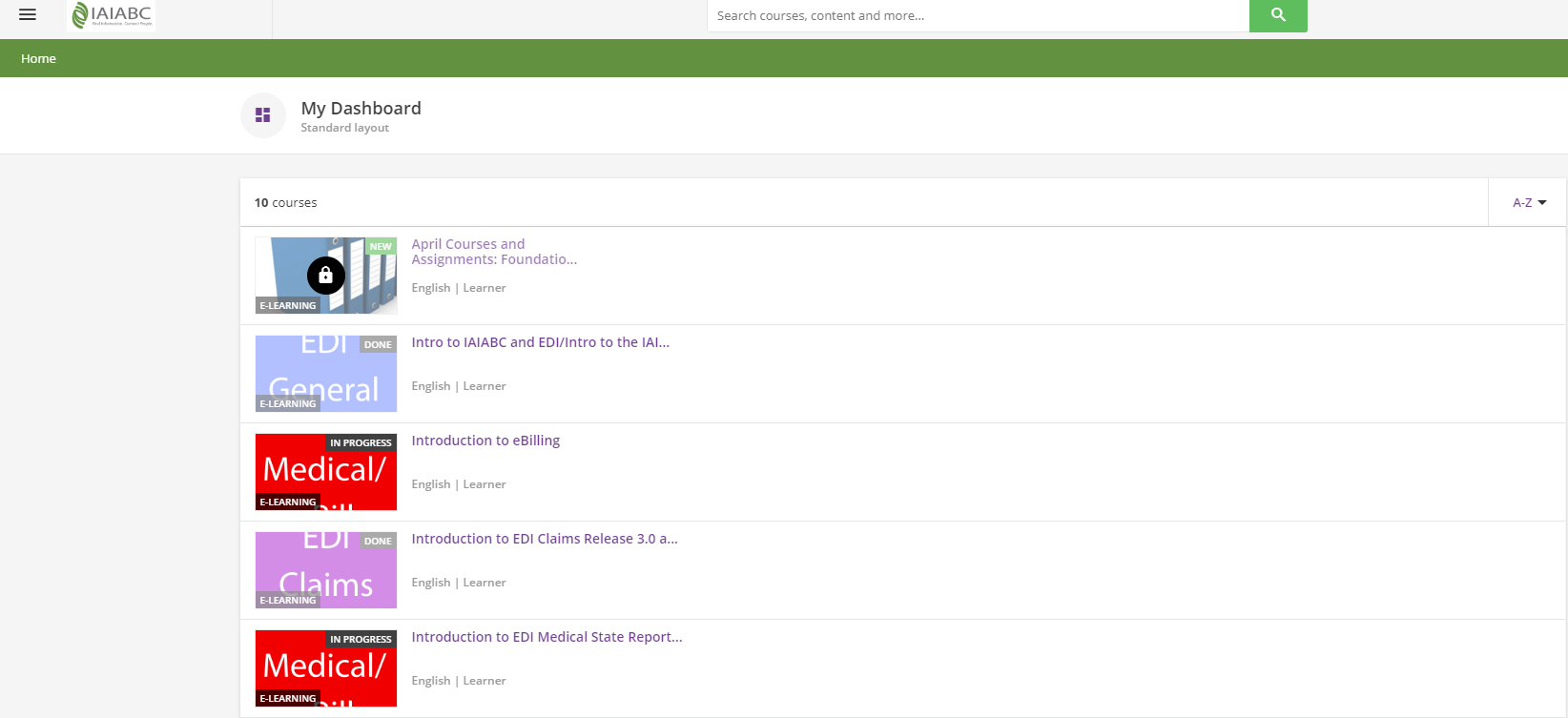 ---
Registering for an Event
Registering for IAIABC events is now easier than ever.
Individuals wishing to register for an IAIABC event are required to login. Under "Events," click on the event you wish to register for.
On each event homepage, you will see event details, registration options, a downloadable agenda, hotel information, an option to add to your calendar, a map of the location, and dates of future conferences.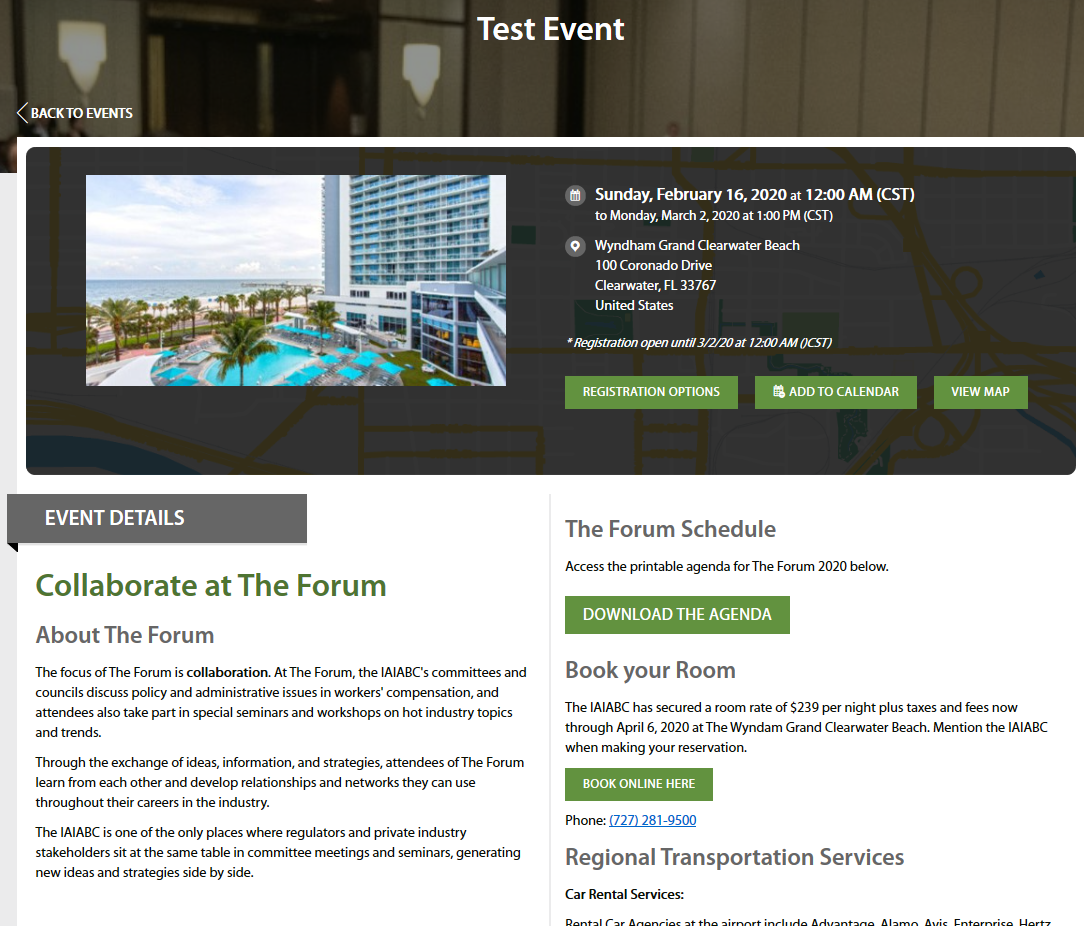 To register, you must be logged into an IAIABC account. When registering, put in the number of tickets you will need. If you are registering 3 people for example, then put 3 in the quantity box. Once you put in your quantity, scroll down to put in the registration information for each person you are registering.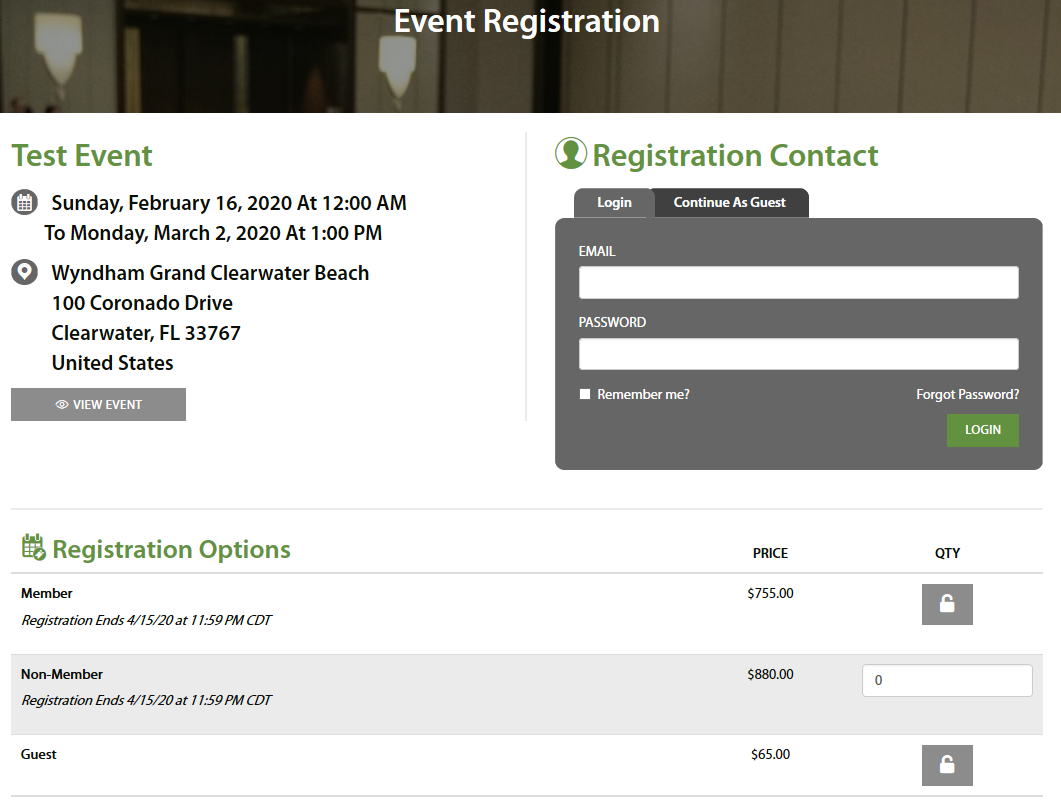 When you get to the attendee information there will be a dropdown to choose which attendee from your organization you would like to register. If the person you are trying to register is not under the dropdown, just type in their name and fill in the additional information. This will not create an account for the registrant. If you would like to create an account for them, please do so before registering. If you select someone already in the system their information on file will be auto-filled. Once you have completed the first registrants information you can scroll down to complete the next person's information.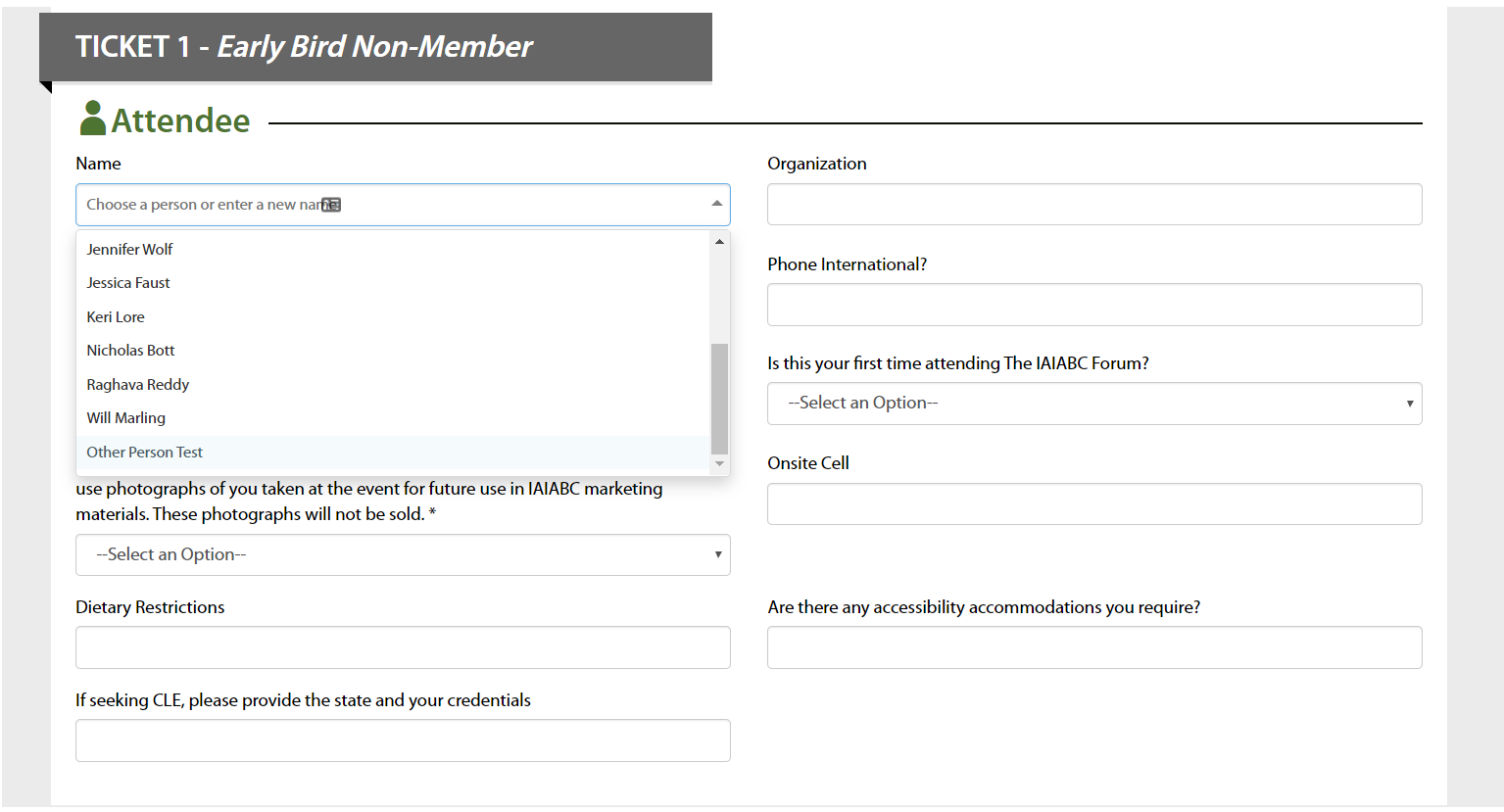 If you scroll down and realize that you've missed someone, you can scroll back to the quantity section to add another person with your filled out information still intact below.