Sedgwick


IAIABC: Please provide a description of your organization.
Max Koonce, Chief Claims Officer, Sedgwick: Sedgwick is a leading global provider of technology-enabled risk, benefits and integrated business solutions. Taking care of people – our colleagues, clients and communities – is at the heart of everything we do at Sedgwick. At Sedgwick, caring counts, and we show we care by living our core values of empathy, accountability, inclusion, collaboration and growth. These five core values are more than just words on a page; they are deeply ingrained into life at Sedgwick, and they guide our behaviors and decisions. They ensure that we act with empathy, reinforce accountability, inspire inclusion, nurture collaboration and that we serve as a guide for growth.We provide a broad range of resources tailored to clients' specific needs in casualty, property, marine, benefits, brand protection and other lines. At Sedgwick, caring counts; through the dedication and exper­tise of more than 30,000 colleagues across 80 countries. For more, see sedgwick.com.

IAIABC: How does your organization serve the workers' compensation industry?
MK: Taking care of people is at the heart of everything we do. When people contact us, they can be facing an unsettling and stressful event. Our colleagues are responsible for providing much needed support and assistance. Our approach to delivering quality service goes far beyond just managing claims; we aim to simplify the process and reduce complexity, making it easy and effective for everyone involved.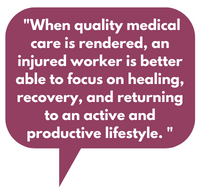 The medical care and recovery environment of an injured worker largely determines the outcome of a workers' compensation claim. Effectiveness is driven by how quickly care is administered and the appropriateness of the treatment that is provided. There is value in providing more holistic care, including the increased use of behavioral health specialists, pain management specialists, and surgery nurses. When quality medical care is rendered, an injured worker is better able to focus on healing, recovery, and returning to an active and productive lifestyle.
We also know that a claims strategy with a strong employee focus is paramount in today's competitive business environment. Impressions are formed at the time an incident is reported and continue throughout the recovery and return to work process. Individuals will note the urgency, compassion, and concern expressed in response to their injury, the communication and guidance they are provided throughout the claims process, and the degree to which a fair and equitable settlement is established.
IAIABC: What do you see as some of the major challenges the industry is facing, and how can we as a community address them?
MK: Workers' compensation's original premise, the "Grand Bargain", has remained consistent since its inception in the early 20th century. There have been exceptions and variations to the definition of disease and injury coverage, types of benefits and to what extent they apply, and the value of the benefits. However, this original construct has continued throughout the generational, industrial, technological, societal, and cultural shifts/growth that has occurred over the last 100+ years.
The future of workers' compensation will undoubtedly be influenced by the global health crisis brought on by COVID-19. Three areas that warrant close monitoring in terms of how they may impact the future of workers' compensation are workforce, healthcare and legislation
Workforce
Demographics in the workforce have been impacted significantly over the course of the last 2+ years. Some of these changes, such as the baby boomer generation exiting the workforce, were already predicted. Many others were not, including the transition to greater remote workers; unemployment vacillation from high to extremely low within a period of 2 years; and a record number of job openings. These changes are impacting employee expectations, the skill set of the workforce, extreme job transitioning, and job tenure. In turn, these factors can be expected to impact workers' compensation claims and their outcomes.
Healthcare
During the COVID-19 pandemic, the healthcare industry was "front and center." The expanded use of telehealth and increased use of medical device data are expected to impact workers' compensation going forward. With all signs pointing to virtual care being here to stay, the industry can expect telehealth workers' compensation solutions to continue and become even more sophisticated and integrated. Similarly, data from devices like phones and smartwatches has proven useful in monitoring and tracking injured worker recovery. Broader adoption of telehealth and expanded use of medical device data is expected to increase as data security systems become more sophisticated.
Legislation/regulations
Legislative and regulatory action became a heightened focus in the workers' compensation industry during the pandemic. Numerous states enacted compensability presumptions for COVID-19. This broadening of presumptions in workers' compensation systems raised a question as to "socialization of risks." Many pondered whether employers should be given ownership of something as ubiquitous as a global pandemic, counter to workers' compensation's focus on risks directly related to the employment.
Employers were also challenged with managing a myriad of new legislation and regulations regarding sick/leave/disability. Some incorporated an employee-focused integrated care process to ensure employee support through workers' compensation or sick/leave/disability. It became evident that a holistic focus on the employee can be done effectively while keeping transparency in reporting and management across departments. Compassionate care through an integrated approach that puts employees first could be part of the "new normal".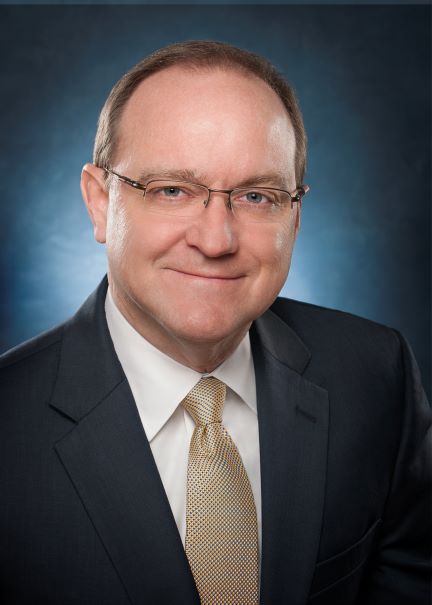 K. Max Koonce
Chief Claims Officer, Sedgwick
IAIABC: Are there any projects/programs/initatives going on at your organization that you are particularly excited or enthusiastic about?
MK: At Sedgwick, we are having tremendous success with our technology advancements. Our new data visualization tools provide employers and injured workers a new depth of information to guide their decision-making throughout the care, claims and recovery process. Along with streamlined intake solutions and improved self-service solutions, these upgrades are designed to improve user satisfaction, speed claims resolution, and improve outcomes.
More specifically, enhancements have been made to Sedgwick's proprietary platforms including:
viaOne – The viaOne suite of tools, which gives secure access to real-time information in Sedgwick's claims management system, uses new dashboard capabilities to improve data visualization. It offers real-time views for different audiences including workers' compensation, managed care, disability and absence.
smart․ly– Advanced features have been added to the smart.ly platform to simplify intake and automate claims adjudication and process fulfillment. Combining AI-driven optical image analysis, rules-driven decision engines, straight-through processing and real-time API interactions, smart․ly can address a wide range of scenarios.
mySedgwick – Self-service tool, mySedgwick, provides clients, and their employees, with rapid access to loss and claims data. With mySedgwick, claims and absence reporting, provider search, and document upload are simplified. Individuals can view their claims and case information and payment status anytime, on any device and communicate directly with Sedgwick representatives, eliminating the most common frustrations in the process.
Data, technology and innovation are essential to the advancement of our industry. They play an important role in automating routine processes and eliminating friction points so that claims professionals can focus on the critical human connection aspect of providing care.
At Sedgwick, we care about our colleagues' career passions and goals and provide opportunities for colleagues to learn, grow and advance. In 2022, we reimagined our proprietary training and development program, Sedgwick University, to support our colleagues' personal and professional growth. Sedgwick University is the most comprehensive program of its kind in the industry and is the foundation for our culture of learning. Colleagues can learn and grow on an ongoing basis with more than 15,000 courses on demand, as well as training specific to roles. For those who seek educational opportunities outside the organization, Sedgwick University provides tuition reimbursement for colleagues pursuing academic degrees and reimbursement for professional licensures, certifications and designations.
IAIABC: Why is your organization a member of the IAIABC? What would you tell others about the benefits of membership?
MK: As a leading not-for-profit association that represents government agencies charged with the administration of workers' compensation systems, we applaud the IAIABC's mission to advance the efficiency and effectiveness of workers' compensation systems throughout the world. And, we fully support IAIABC's quest to find solutions to reduce harm and aid recovery from occupational injuries and illnesses. This aligns with Sedgwick's caring counts philosophy and our commitment to simplifying the claims process, reducing complexity, and making it easy and effective for everyone involved. It is no wonder that today the IAIABC is the largest trade association of workers' compensation jurisdictional agencies in North America. Sedgwick values our longstanding partnership with IAIABC, and we look forward to our continued collaboration for many years to come