MDGuidelines


IAIABC: Please provide a description of your organization.
Lucy Shannon, Leader, Editorial Research & Development, MDGuidelines: MDGuidelines is a clinical decision support solution that provides illness and injury recovery duration estimates, clinical practice guidelines from the American College of Occupational and Environmental Medicine (ACOEM), and analytic tools to promote the quality and consistency of patient care and better clinical outcomes. Our one-stop-shop enables clinicians, case managers, utilization reviewers, and HR professionals to access the latest evidence-based treatments and return to activity recommendations with ease. The depth and breadth of our content is regularly reviewed by expert clinical physicians to support patients in getting the right care at the right time so that they can return to their regular lives quickly and safely.
We've come a long way from Dr. Presley Reed's original textbook version of MDGuidelines published in the 1990's to our current, interactive search-driven website. Although our main office is in Denver, Colorado, our employees, clients, medical accuracy reviewers, and Medical Advisory Board members are located across the nation and throughout the world, representing both the workers' compensation and disability management industries.

IAIABC: How does your organization serve the workers' compensation industry?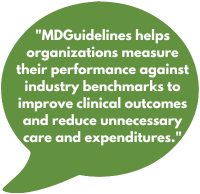 LS: When used at the point of care, MDGuidelines provides clients with tools they can trust. Our data and evidence-based medical content helps foster a productive physician-patient dialog, resulting in employees returning to health within expected timeframes. Using detailed analytics that draw on a database of over 18 million disability cases, MDGuidelines helps organizations measure their performance against industry benchmarks to improve clinical outcomes and reduce unnecessary care and expenditures. Using evidence-based diagnostic and treatment recommendations provides a powerful return on investment for providers, payers, and employers, and helps clinicians avoid approaches that are low-value or even potentially harmful for the patient. We believe that building workers' compensation systems based on the latest science is the cornerstone of innovation, efficacy, and humanity.
IAIABC: What do you see as some of the major challenges the industry is facing, and how can we as a community address them?
LS: Communication is often a major barrier when there are so many stakeholders involved in caring for a patient, including clinicians, payers, employers, clinical staff, and case managers. At a time when many physician offices still require faxes to be sent, it is essential that we move workers' comp, and healthcare in general, to the 21st century. Developing streamlined integrated systems that use both data and clinical input is the future of medicine and will ensure that precious clinical time can be better spent on solving medical problems, not paperwork.
IAIABC: Are there any projects/programs/initatives going on at your organization that you are particularly excited or enthusiastic about?
LS: In partnership with ACOEM, we recently launched a program that allows clinicians to use MDGuidelines to research clinical questions to earn continuing medical education (CME) credits for their licensure. To ensure better clinical outcomes, physicians need to incorporate scientifically proven treatments in patient care. However, staying up to date with the latest medical literature is a Herculean task. If clinicians must spend their limited time searching for and learning from the latest research-based content, rewarding them with CME credits is a no-brainer.
We are also excited by recent enhancements to our MDGuidelines website, which make searching for specific information faster and easier. With our improved intuitive navigation, clients can rapidly find medical content and duration estimates in our 1,200+ condition and procedure topics, diagnostic and treatment recommendations in the ACOEM Clinical Practice Guidelines, evidence support for therapeutic agents in our Formulary, and focused claims estimate and benchmarking tools to help inform best practices and individualized patient care.
IAIABC: Why is your organization a member of the IAIABC?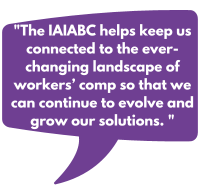 What would you tell others about the benefits of membership?
LS: Creating a space where leaders, employees, and researchers can discuss solutions despite jurisdictional differences is essential to creating an industry with fewer silos. The IAIABC helps keep us connected to the ever-changing landscape of workers' comp so that we can continue to evolve and grow our solutions. Moving individual organization ideas into industry-changing strategies helps patients, which, at the end of the day, is why we are all working together in this business.