Workers' Compensation Leaders Recognized with IAIABC President's Awards
Date posted
September 23, 2020
IAIABC President, Evelyn V. McGill, Executive Director of the Virginia Workers' Compensation Commission, recognized seven individuals for their service to the IAIABC and the workers' compensation industry at the IAIABC 106th Convention. The President's Awards honor those who demonstrate commitment and achievement in reducing harm and aiding recovery from occupational injuries and illnesses."
It is a special honor to recognize the contributions of these talented individuals," says Ms. McGill. "The workers' compensation industry is better because of their hard work and dedication."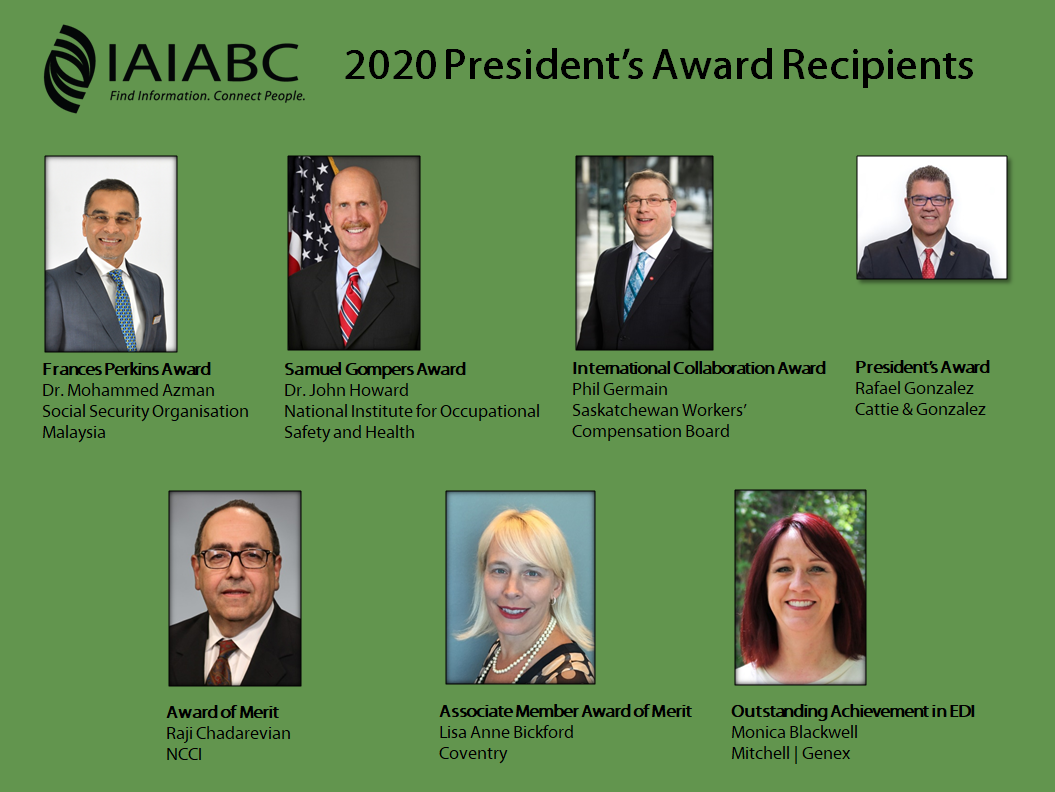 The 2020 President's Award was given to Rafael Gonzalez, Partner, Cattie & Gonzalez. Mr. Gonzalez has served in many roles within the workers' compensation industry, from corporate counsel to chief executive officer, but he is passionate about education. With extensive expertise in Medicare and Medicaid compliance, Mr. Gonzalez lectures across the United States to ensure the workers' compensation community understands the complex intersection between federal and state regulation.
The 2020 Frances Perkins Award was given to Dato' Sri Dr. Mohammed Azman Aziz Mohammed, Chief Executive Officer of the Social Security Organisation Malaysia. Dr. Azman believes strongly in the importance of social security organizations in protecting workers and supporting economic stability. Dr. Azman seeks new ideas and innovations by actively engaging with the international community and sharing their successes.
The 2019 Samuel Gompers Award was presented to Dr. John Howard, Director of the National Institute of Occupational Safety and Health (NIOSH). Dr. Howard has had a distinguished career focused on improving occupational safety and health for American workers. In his role at NIOSH, he advances important research to enhance workplace safety strategies. Under his leadership, NIOSH launched the Center for Workers' Compensation Studies seeking to encourage collaboration and data sharing across public health and workers' compensation agencies at the state and federal level.
The 2019 IAIABC Award of Merit was presented to Raji Chadarevian, Director of Medical Regulation and Infomatics at NCCI. Mr. Chadarevian is frequently asked to present on his research on cost drivers and consequences of medical policy strategies. His knowledge of healthcare cost drivers helps jurisdictions across the United States understand the impact of proposed and enacted policy. Mr. Chadarevian is a member of the IAIABC Medical Issues Committee and Research & Standards Committee.
The 2019 Associate Member Award of Merit was presented to Lisa Anne Bickford, Director of Government Relations at Coventry. Ms. Bickford is an expert in workers' compensation healthcare policy and is engaged in advisory councils in many jurisdictions. She has been instrumental in developing recent IAIABC resources on telemedicine, fee schedules, and claims measures. Ms. Bickford serves as the Vice Chair of the IAIABC Research and Standards Committee and is a member of the Associate Member Council and Medical Issues Committee.
The 2020 International Collaboration Award was presented to Phillip Germain, CEO of the Saskatchewan Workers' Compensation Board. Mr. Germain has facilitated engagement with jurisdictions and organizations across the world to bring new ideas and solutions to the IAIABC community. Mr. Germain currently serves as the Vice Chair of the IAIABC Disability Management and Return to Work Committee and is a member of the International Committee.
The 2020 Outstanding Achievement in EDI was presented to Monica Blackwell, Senior Professional Services Consultant at Mitchell | Genex. Ms. Blackwell has 20 years of EDI industry experience and supports clients with new implementations. She is the current chair of the IAIABC EDI Claims Committee and has led the committee through the transition of the Claims Standard by addressing needed changes and enhancements to the Claims Release 3.1 Standard.
About the IAIABC
The IAIABC is an association of government agencies that administer and regulate their jurisdiction's workers' compensation acts. Along with these government entities, various private organizations involved in the delivery of workers' compensation coverage and benefits participate in the IAIABC. Since its inception in 1914 the IAIABC has worked to improve and clarify laws, identify model laws and procedures, develop and implement standards, and provide education and information sharing. The IAIABC strives to gather the best resources available to solve the practical administrative and operational problems of its members.
###
Contact: Heather Lore, Communications and Engagement Director, IAIABC
Phone: +1 (608) 841-2017
Email: hlore@iaiabc.org